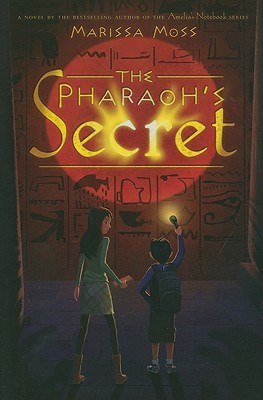 I currently work for a school district. Two of the kids I work with on reading. One wanted a mystery while the other one wanted fantasy, and both the teacher and I wanted something that somewhat broadened their horizons, as well as be appropriate for fourth graders that are slightly more sensitive to some topics. In came the Pharaoh's Secret.
The Pharaoh's Secret is written by Marissa Moss, and is in Talibah's point of view. When she, her brother (Adom) and her Egyptoligist arrive in Egypt for a vacation, Talibah starts having odd dreams telling her to save him. Only, she doesn't know who 'he' is. In addition to this, they meet a family friend of her father's, Rashid, and Talibah doesn't get a good feeling from him. The feeling becomes even stronger when Adom and Talibah find themselves under Rashid's watch. During the book, Talibah struggles to find answers about her family, while saving the person that the dreams warn her about.
Overall, I enjoyed the book, and it is a good gateway into Ancient Egyptian myths as well as some history, as the story, though fiction, was inspired about aspects from Hatshephut's reign. I was able to read it all in about 5 hours.
For the kids that I work with, I made a study guide for them to use while reading the book. We are working heavily on characters, inferring, foreshadowing, and vocabulary while reading, so I focused on these types of questions and prompts while making the study guide. Download it below! I will upload an answer sheet to it soon as well.
I'm planning on doing additional activities with Ancient Egypt in the future, but if there are specifics you are looking for, reach out to me through the contact page, through teachers pay teachers, or through the patreon page, and I will look at adding it to the growing list of ideas, activities, and other resources I hope to provide.
If you aren't looking for a chapter by chapter study guide, I am also working on a book test, which will be linked to here when it is completed.